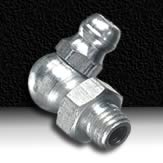 Products
For more information call:
1-800-588-8480

AS

Grease

Fittings / Aerospace Fittings

AS Grease Fittings / Aerospace Grease Fittings from SAE Products meet SAE AS35411 Aerospace Standards which require detailed performance testing, extensive documentation, sampling, dimensional checks and traceability of materials. An uncompromising commitment to excellence in quality allows us to serve satisfied aircraft and military customers worldwide. Our AS grease fittings meet the SAE AS 35411 Aerospace Standard which supersedes previous (MS) Military Specifications MIL-F-3541.
Documents Available with AS Grease Fittings
• Certificate of Conformance
• Chemical / Physical Analysis
• Heat Treating
• Dimensional Data
• Test Data
• Plating
• Traceability
AS Grease Fittings | NAS Grease Fittings| Aircraft Fittings | Mil Spec Grease Fittings | MS Grease Fittings| Aviation Grease Fittings

Note: All MS fittings have been superseded by AS fittings.

SAE Number

AS Grease Fitting Description

AS & NAS Part #

AK-18F

1/8"-DRIVE FLUSH FITTING

AK18-MONEL

1/8"-DRIVE FLUSH MONEL

H-100-AS

1/4"-28 SAE STRAIGHT

H-100-SS-AS

1/4"-28 STRAIGHT STAINLESS

H-100-MON.-AS

1/4"-28 SAE STRAIGHT MONEL

AS15004-1

H-100-28-AS

1/4"-28 UNF-2A STRAIGHT

AS15002-1P

H-100-LMA-AS

1/4"-28 SAE MEDIUM LONG

AS15001-2P

H-145-AS

1/4"-28 SAE 45 DEGREE

AS15001-3P

H-145-SS-AS

1/4"-28, 45° STAINLESS STEEL

AS15720-2

H-145-MON.-AS

1/4"-28 SAE 45 DEGREE MONEL

AS15004-2

H-145-CU-AS

1/4"-28 SAE 45 DEGREE SHORT

AS15002-3P

H-190-AS

1/4"-28 SAE 90 DEGREE

AS15001-4P

H-190-SS-AS

1/4"-28, 90 DEGREE STAINLESS

AS15720-3

H-190-MON.-AS

1/4-28 SAE 90 DEGREE MONEL

AS15004-3

H-200-AS

1/8"-PTF STRAIGHT

AS15003-1P

H-200-SS-AS

1/8"-PTF STR. STAINLESS STEEL

AS15721-1

H-200-MON.-AS

1/8"-PTF STRAIGHT MONEL

AS15005-1

H-200-LP-AS

1/8"-NPT STR. LEAKPROOF

AS15006-1P

H-200-LM-AS

1/8"-PTF MEDIUM LONG

AS15003-2P

H-230-AS

1/8"-PTF 30 DEGREE

AS15003-3P

H-230-SS-AS

1/8"-PTF 30 DEGREE STAINLESS

AS15721-3

H-230-MON.-AS

1/8"-PTF 30 DEGREE MONEL

AS15005-3

H-230-LP-AS

1/8"-NPT 30 DEGREE LEAKPROOF

AS15006-2P

H-245-AS

1/8"-PTF 45 DEGREE

AS15003-4P

H-265-AS

1/8"-PTF 65 DEGREE

AS15003-5P

H-267-SS-AS

1/8"-PTF 67° STAINLESS STEEL

AS15721-4

H-267-MON.-AS

1/8"-PTF 67 DEGREE MONEL

AS15005-4

H-290-AS

1/8"-PTF 90 DEGREE

AS15003-6P

H-290-LP-AS

1/8"-NPT 90° LEAKPROOF

AS15006-4P

H-290-SS-AS

1/8"-PTF 90 DEGREE STAINLESS

AS15721-5

H-290-MON.-AS

1/8"-PTF 90 DEGREE MONEL

AS15005-5