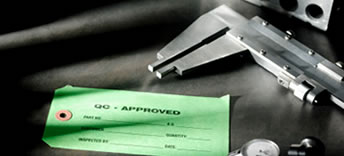 All Major Credit Cards Accepted!



Quality
SAE Products®, a global leader in the distribution of lubrication components and fasteners, has been awarded ISO 9001:2015 AND AS9100D certification with ZERO Non-Conformaties by Perry Johnson Registrars for it's Quality Management System.

ISO 9001:2015 and AS9100D are recognized globally and are used by commercial and aerospace manufacturing and service organizations to create a standardized quality management system that is continually monitored on-site by an independent, accredited auditing body to ensure the quality management system conforms to the principles of customer satisfaction, continuous quality improvement and the safety and reliability of products, processes, and systems.

With ISO 9001:2015 and AS9100D certification implemented, SAE Products® demonstrates its commitment to being the most reliable and technically competent partner for our customers and future collaborators in all industries.

ISO 9001:2015 and AS9100D Certification: Click here for copy
---